Why remain a Seventh-day Adventist
By Robert K. Sanders
Many Adventists have written to me about remaining in Adventism after getting their eyes opened to the fact that Ellen White contradicted the Bible and had failed visions and false health reform advise.
Why would any Christians loyal to God and his Word (the Bible) want to have their minds messed up with EGW's "spirit of nonsense"? Why would they want their life and their families lives in bondage to these non-biblical, non-scientific teachings, when the can have true freedom in the Word of God? How can a Christian in good conscience before God, use their time, money and influence to support a church that has a false prophetess?
Some Adventists conclude they are free of EGW because they do not accept her or her teachings as being from God and their pastor does not quote her from the pulpit. Think about this. Would you have the same reasoning if you were a member of Mormonism, or the Jehovah's Witnesses, or Christian Scientists, etc.?
Your local church may be not outwardly promoting EGW but the fact remains that the Adventist denomination does promote EGW as central in their beliefs as recorded in the 2000 General Conference Session in Toronto. I will give two excepts from it:
Resolution on the Gift of Prophecy Through the Ministry of Ellen G. White
3. We urge that efforts be intensified to inform all church members, especially the youth and those new to our faith, concerning the role and value of this gift in the experience of Seventh-day Adventists. We also encourage increased circulation of the Ellen G White books as well as concerted study programs throughout the world utilizing those Ellen G White books available to our members.
VIOLETO F. BOCALA: I am very happy, Mr. Chairman, that we have this recommendation on hand. I think we need to give more emphasis to the Spirit of Prophecy. Our people sometimes forget that the church is guided by the writings of the Spirit of Prophecy, without which I think we will likely fragment. In the Southern Asia-Pacific Division we have just taken an action that for the next five years we will promote Sprit of Prophecy reading just as we do Bible reading, promoting a different book of the Conflict of the Ages Series each year.
Here is the problem with their claim that EGW is not mentioned in their churches. Most Adventist members only know the Bible as it was taught to them in Bible studies, Bible seminars and in the Sabbath School Quarterly. The members do not realize that they are spoon fed Ellen White's private twisted interpretation of the Bible each week. When some pastors preach from the pulpit, they interject EGW's teachings without giving her credit and the members sit in the pew soaking it up as if it was biblical, and say "Amen".
When Adventist members and leaders do not believe in following EGW's instructions, they are in reality admitting EGW was not the mouthpiece for God and are being hypocrites claiming they are Adventist. When a person decides to become an Adventist, they take a vow before God to accept Adventist doctrines. These doctrines are found in Adventism's 28 Fundamental Beliefs, which are laced with EGW non-biblical teachings. Now when a member comes to the place in their life when they do not believe the Adventist doctrines, shouldn't they be honest with God and their church and ask to have their membership removed?
The SDA Denomination Urges You to Leave!
3) "We recognize that true religion is based on conscience and conviction. It is therefore to be our constant purpose that no selfish interest or temporal advantage shall draw any person to our communion and that no tie shall hold any member save the belief and conviction that in this way the true connection with Christ is found. If a change of conviction leads a member of our church to feel no longer in harmony with Seventh-day Adventist faith and practice, we recognize not only the right but also the responsibility of that member to change, without opprobrium, religious affiliation in accord with belief. We expect other religious bodies to respond in the same spirit of religious liberty." (Quoted verbatim from the Official Seventh Day Adventist Church website.) This is text of policy No. 075 in the General Conference Working Policy.
NOTE: What is really interesting from the above policy of the General Conference is the fact many of the leaders that do not accept EGW's teachings as being biblical are hypocrites by remaining in the Adventist Church. They choose to accept hard earned tithe money to foster this deception. Also they know that tithe paying for Christians is not biblical. See "Tithing not a law for Christians".
How do I resign from Adventism?
Many individuals who wish to leave Adventism are not sure how to remove their membership. Here is the process:
Address a letter to the pastor requesting your local church to remove your membership, and send copies of that letter to each of the church board members in your local church.
In the letter state that you no longer believe crucial doctrines held by the Adventist denomination (you may want to specify which of their 28 doctrines you do not believe and why).
Also state that you are a committed Christian, that you have a good, on-going relationship with Jesus Christ, that you are assured of salvation on the basis of Christ's atonement, and that you are committed to following the Bible as the inerrant, fully sufficient revelation of God's will.
Ask the pastor to have the Church Board approve your request to have your name removed, and to take it to a Church Business Meeting for final approval.
Ask the pastor to carry out your request in a timely manner, and ask him to verify in writing that your name has been removed from membership in the SDA Church.
Now, here's where many people run into a problem. Often the pastor will simply not take the steps you have requested and your name will remain on the SDA Church books for years. Or, the Church Board or at a Church Business Meeting the members will vote to "work with you" and try to "reclaim you" and this can go on for years.
Thus it is very important that you communicate with the pastor a second time after a month or so restating your request and requesting him to verify in writing that your name has been removed from church membership.
If he or the local church ignores your request, or refuses to remove your name in a timely manner, write a second letter explaining that your name is to be removed immediately or you will turn this matter over to your lawyer and the Church will face legal action. It is very important that you carry out these steps and receive written verification that your name has been removed.
It is not unusual for the local church to send the pastor and/or elders to visit you and try to pressure you to change your mind. Treat them kindly, but firmly, and tell them you have given considerable thought to your decision and you are not changing your mind. Tell them that it is more important for you to follow Scripture than the non-Biblical traditions and doctrines of the SDA Church. When they ask you to explain which doctrines are not Biblical print out from Truth or Fables topics to make your point.
Many SDA pastors have written me that they have left the SDA Church. Also thousands of members have had the courage to leave each year, and are now basking in the sunlight of Christ's Word alone to find their duty. Those that choose to remain SDAs are missing out on the spiritual growth they would receive in a Christ-centered, Bible-teaching, Christian church.
What you do not see in your local church is the big picture of how the SDA Church operates. The leaders have no qualms crucifying His Son and persecuting His followers as the Jews did and as SDAs are already famous for doing (i.e. Rwanda, and the 30 + Congregational SDA churches have been hounded out of business, the 300+ SDA pastors they fired for following Scripture, etc.)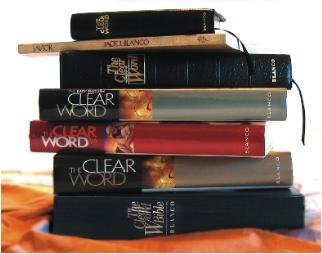 Your church has printed its own cultic Bible, The Clear Word Bible in order to misled you to the true word of God. Cults do this such as the JW and the LDS. If you wish to see how The Clear Word Bible has perverted God's Word, Se "Clear Word Exposed".
And just think, you are paying the salary of the leaders of Adventism to corrupt your mind.
Keep in mind by withdrawing your membership in the SDA Church you are NOT leaving Christ but a church that that teaches non-biblical doctrines as "truth". Salvation is not in church membership. Only JESUS SAVES!
Send a copy to the Pastor and to each board member. You may copy and paste this letter into your word processor then edit it as you wish.
---
Your Name
Street Address
City, State, Zip

Date: 00/00/00

Subject: Remove my membership.
Pastor's name
(Name) Seventh-day Adventist Church
Church Board Members
1. Name
2. Name
3. Name
4. Name
5. etc.
This letter is to notify the church that I want my membership withdrawn as soon as possible. When I joined the church, I took a vow agreeing to the church's doctrines.
I am no longer in agreement with some of the doctrines of the Church, as outlined below. These doctrines are not found in the Bible but are a twisted interpretation of Ellen G. White.
Remnant Church. I do not believe the Seventh-day Adventist Church to be the only remnant people of God. God's remnant people today, as in ages past, are all those who worship Him in spirit and truth, and is not a denomination. The Bible does not tell us that the SDA Church or any denomination is a "remnant church".
Spirit of Prophecy. I do not believe that Ellen G. White was a prophetess, or that her writings are the "Spirit of Prophecy," since they contradict Scripture. She had failed visions, and false health reform teachings. All Christians that testify of Jesus have the "Spirit of Prophecy" not one person. Rev.19:10. Furthermore EGW clams to have replaced Jesus Christ.
EGW: "In these letters which I write, in the testimonies I bear, I am presenting to you that which the Lord has presented to me. I do not write one article in the paper expressing merely my own ideas. They are what God has opened before me in vision—the precious rays of light shining from the throne." —Testimonies 5 p. 67.
Bible: Heb 1:1 - 2 (NIV) In the past God spoke to our forefathers through the prophets at many times and in various ways, but in these last days he has spoken to us by his Son, whom he appointed heir of all things, and through whom he made the universe.
The SDA Sanctuary teaching. I do not believe when Christ ascended to heaven that he spent the first 1800 years in the Holy apartment with the Father and then moved into the Most Holy as taught by Ellen White visions. The Bible teaches that when Christ ascended to heaven 2000 years ago, He sat on the throne with His Father in the Most Holy apartment and began mediating on our behalf.
Rom. 8:34 (NIV): Who is he that condemns? Christ Jesus, who died—more than that, who was raised to life—is at the right hand of God and is also interceding for us.
The 1844 Investigative Judgment. I do not believe Christ began His work of Investigative Judgment in 1844 taught by Ellen White. The SDA/EGW, Investigative Judgment doctrine is not biblical. According to Hebrews 11 and other texts the saints were already assured of salvation almost 2,000 years before 1844.
Adam: Rom. 5:14 (NIV) Nevertheless, death reigned from the time of Adam to the time of Moses, even over those who did not sin by breaking a command, as did Adam, who was a pattern of the one to come.
Abel: Heb. 11:4 (NIV) By faith Abel offered God a better sacrifice than Cain did. By faith he was commended as a righteous man, when God spoke well of his offerings. And by faith he still speaks, even though he is dead.
Enoch: Heb. 11:5 (NIV) By faith Enoch was taken from this life, so that he did not experience death; he could not be found, because God had taken him away. For before he was taken, he was commended as one who pleased God.
Noah: Heb. 11:7 (NIV) By faith Noah, when warned about things not yet seen, in holy fear built an ark to save his family. By his faith he condemned the world and became heir of the righteousness that comes by faith.
All the above saints missed EGW's 1844 Investigative Judgment!
Tithing. The Old Covenant tithing law was given to Israel under the Old Covenant and not to the Christian Church under the New Covenant. Tithe was to support the Levites, and Levite Priests that care for the Temple and the poor. I believe there are no known Priests or Levites in the world today; there is no Temple for them to care for as the Romans destroyed it in A. D. 70. God has never changed the tithe law to include Gospel ministers. Only the Israelites that raised crops and animal were commanded to tithe. All the rest were tithe exempt. In Adventism ALL members are required to tithe on their wages and send it to the conference office. Jesus tells that there would not be one jot or title pass from the law. Adventists do more than jots and titles to change the old covenant law. SDAs often ask for a text to show Sabbath was changed to Sunday. I ask for the text where tithe law was changed to include the Gospel ministers!
Sabbath Keeping. I find no text that tells us that the Sabbath is the Seal of God for Christians. The Seal of God for Christians is the Holy Spirit. Eph. 4:30 (NIV) 30And do not grieve the Holy Spirit of God, with whom you were sealed for the day of redemption. I do not find the Sabbath a law for New Covenant Christians. There is no command to keep the Sabbath or penalty for breaking the Sabbath. The Gentiles coming into the church were never told to keep the Sabbath or how to keep the it or reprimanded for breaking the Sabbath. According to the Sabbath law, if any broke the Sabbath, they should have been stoned to death. Acts 15 is clear that the Gentiles were never asked to keep the Mosaic Law such as circumcision and the Sabbath. The Mosaic/old covenant ended at Calvary. God made a new covenant based on faith and not the works of the old covenant. Heb 8:7-12. God made the old covenant obsolete .
Heb 8:13-9:1 (NIV) By calling this covenant "new," he has made the first one obsolete; and what is obsolete and aging will soon disappear. 1Now the first covenant had regulations for worship and also an earthly sanctuary.
Col 2:16-17 (NIV) Therefore do not let anyone judge you by what you eat or drink, or with regard to a religious festival, a New Moon celebration or a Sabbath day. These are a shadow of the things that were to come; the reality, however, is found in Christ.
The weekly Sabbath is a shadow of the finished work of Christ. Those that insist on Sabbath keeping are living in the shadows and rejecting the "reality" of the finished work of Christ. Christ is the Christians Sabbath rest which we enjoy daily. How can Christians legally be party to a covenant that they were never included? How then can the Sabbath be a sign between God and Gentile Christians when it was a sign only between God and Israel? Ex 31:14-17?
Sunday. Sunday is not a holy day or any kind of Sabbath. God is Lord of everyday of the week. I am like the person the Apostle Paul speaks of in Rom 14:5 that regards everyday alike. If the Sabbath was to be a holy day then Paul would not have made this statement. There is no record in the Bible that the Mark of the Beast is given to those that reject the Sabbath and go to church on Sunday as taught by Ellen White, or that Sunday is the Popes' day. There is no record of any pope changing Sabbath to Sunday as claimed by EGW who supposedly saw it in vision. No pope or prophet has a right to alter a covenant made by God.
SDA Fundamental Belief #17. I do not believe that EGW is any kind of "authority of truth" as stated below.
Seventh-day Adventists Believe ...
One of the gifts of the Holy Spirit is prophecy. This gift is an identifying mark of the remnant church and was manifested in the ministry of Ellen G. White. As the Lord's messenger, her writings are a continuing and authoritative source of truth which provide for the church comfort, guidance, instruction, and correction. They also make clear that the Bible is the standard by which all teaching and experience must be tested. SDA Fundamental Beliefs, 17.
The Seventh-day Adventist Church in a General Conference Session 1980, decided that the Bible was not the only "authoritative source of truth" to guide the church, but found it necessary to include the writings of Ellen G. White. This is amazing considering her writings were plagiarized from uninspired authors, they contradicted the Bible and added to the Bible. In 1980, the SDAs became true Catholics, as they are no longer Sola-Scriptura, the Bible alone for their faith.
The Seventh-day Adventist Church Manual dated 1986 and issued by the General Conference of Seventh-day Adventists we find listed on page 28, doctrine number 17, "The Gift of Prophecy". "One of the gifts of the Holy Spirit is prophecy. This gift is an identifying mark of the remnant church and was manifested in the ministry of Ellen G. White. As the Lord's messenger, her writings are a continuing and authoritative source of truth, which provide for the church comfort, guidance, instruction, and correction. They also make clear that the Bible is the standard by which all teaching and experience must be tested."
Adventists will often say they support their church doctrine because of the Bible alone and not EGW. I said it too, over and over again. I can now see that that is impossible with the above doctrine. If EGW is to used for "guidance, instruction and correction", and she is an "authoritative source of truth", then Adventism has two truth sources. Therefore, the last statement in doctrine 17, "the Bible is the standard" is a logical fallacy as long as EGW is doctrinally held to be an authoritative truth source as well. When SDAs accept EGW's Bible contradictions and additions then EGW trumps the Word of God.
I wish to let each of you know that in leaving the SDA Church that I am not leaving Christ. What I am leaving is the false gospel taught by Ellen G. White and the SDA Church. I have come to recognize that I cannot serve two masters and be true to the Word of God.
I would like a letter from the church confirming the fact that my name has been taken off the church role speedily. Also I do not wish to have anyone come to my house to debate me on these issues, as it would be a waste of your time and mine.
Best Christian wishes to each of you.
Signed, your name
---