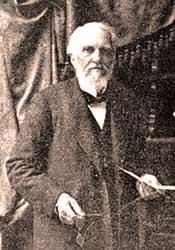 Crosier letter to Canright in 1848
By Robert K. Sanders
O. R. L. (Owen Russell Loomis) Crosier 1820-1913.
Crosier writes a letter to Elder D. M. Canright, dated December 1, 1848. Crosier explains that he and nearly all Adventists including Ellen G. White believed in the shut door from 1844-1848. Ellen G. White claimed after 1844 she gave up the belief in the shut door. Then the Lord showed her in vision she was in error, which means she went back to her former belief that the door of mercy was closed to the world. Adventist leaders were writing articles and denying that Ellen believed in the shut door after 1844. Crosier's letter provided Elder Canright the proof he was looking for to show the Adventist leaders of their untruthfulness.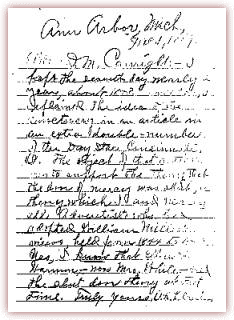 This Ellen G. White letter was discovered in 1980. It had been kept secret by the White Estate. This letter was quoted from in part by Adventists apologists, but the full letter was never released to the public for obvious reasons. Ellen's letter was addressed to Joseph Bates dated July 13, 1847 says, " …Many of them did not believe in the shut door. I suffered much at the commencement of the meeting. Unbelief seemed to be on every hand." "Most of them received the vision and was settled on the shut door." The shut door in this point in time meant the door of mercy was closed to the world except for those that accepted Millers false prophecy. Later the shut door came to mean the door between the holy and the most holy was closed in 1844, which is another false teaching. Crosier's letter is typed out as it is difficult to read the handwriting in the scanned image (right).
---
Ann Arbor, Mich.
Dec. 1, 1887
Elder D. M. Canright: —I kept the seventh day nearly a year, about 1848. In 1846, I explained the idea of the sanctuary in an article in an extra double number of the Day Star, Cincinnati, O. The object of that article was to support the theory that the door of mercy was shut, a theory which I and nearly all Adventists who had adopted William Miller's views, held from 1844 to 1848. Yes, I know that Ellen G. Harmon—now Mrs. White—held the shut door theory at that time. Truly yours, O.R.L. Crosier
---
Related Information